Is Memorandum Of Understanding A Valid Contract?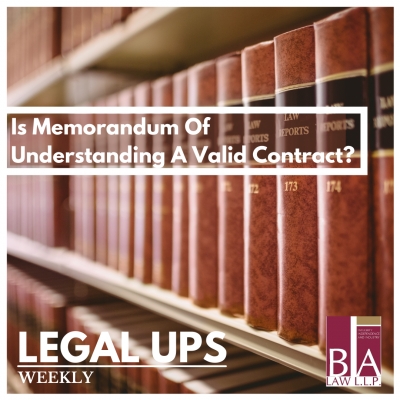 CONTRACT: A MEMORANDUM OF UNDERSTANDING CANNOT BE HELD AS A VALID CONTRACT BUT A MERE REMINDER FOR FUTURE AGREEMENT SET TO BE MADE.
The Supreme Court has set out a standard precedent on issues of Memorandum of Claim (MOU) in the case of BPS CONSTRUCTION & ENGINEERING CO LTD Vs FEDERAL CAPITAL DEVELOPMENT AUTHORITY (2017) ALL FWLR, PART 878, 405 as not being a contract:
"a written statement detailing the preliminary understanding of parties who plan to enter into a contract or some other agreement. Memorandum of Understanding merely sets down in writing what the parties intention will eventually form the basis of a formal contract between them. It speaks to the future happening of a more formal relationship between the parties and the steps each party needs to bring that intention to reality. From the definition given above, notwithstanding the signing of a memorandum of understanding, the parties thereto are not precluded from entering into negotiations with a third party on the same subject matter".(Black's Law Dictionary, 8th Edition, page 924 referred to) (P433, paras E-H)
Thus, an MOU is just preliminary if parties still wish to state other terms of their agreement, they should afterward draft a contract on its own.
Written by Adedamola Oladapo