How To Register A Trademark In Nigeria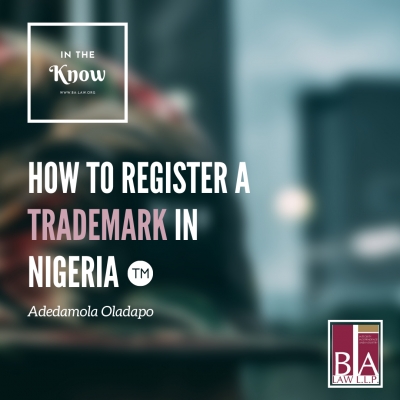 Trademark is a word, phrase, logo or other graphic symbol used by a manufacturer or seller to distinguish its product or products from those of others. The Registration of trademarks in Nigeria is effected at the Trademark, Patents and Designs Registry, Commercial Law Department, Federal Ministry of Industry, Trade and Investment.
STEPS ON REGISTRATION
SEARCH: The Registration process is commenced by conducting a search on the Trademark, at the Trademark Registry so as to avoid any infringement on any existing Trademark.
FILING: Upon searching and noticing the intended Trademark is not in infringement, the Trademark will be filed at the Trademark Registry.
ACKNOWLEDGEMENT LETTER: The Trademark Registry would then issue an Acknowledgment Letter for filing of the Trademark, acknowledging same.
ACCEPTANCE LETTER: Upon acceptance of the Trademark, it would be published in the Trademark Journal which is published quarterly.
TRADEMARK CERTIFICATE: This stands as an evidence and gives exclusive right to the owner alone to use the Trademark.
However, it is worthy of note that Registration of Trademark in Nigeria is renewed after 7 years, and only Accredited Agents are allowed to register a Trademark in Nigeria.
Adedamola Oladapo