Does Every Person Charged Before The Court Need To Be Arraigned?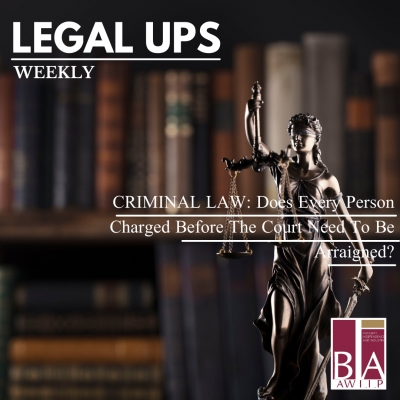 CRIMINAL LAW: DOES EVERY PERSON CHARGED BEFORE THE COURT NEED TO BE ARRAIGNED?
By virtue of EWE V. STATE (1992) LPELR-1179(SC), the Supreme Court held
"An arraignment consists of charging the accused and reading over and explaining the charge to him to the satisfaction of the Court, then followed by the taking of the plea." Per KUTIGI, J.S.C. (P.8, paras.B-C)
Where there is no proper arraignment, any subsequent trial is a nullity (Insignificant or invalid) no matter the strength or cogency of the evidence adduced by the prosecution. See Kajubo v. State (supra), Eyorokoromo v. State (supra) Erekanure v. State (1993) 5 NWLR (pt. 294) 385; Effiom v. State (1995) 1 NWLR (pt. 373) 507; Kalu v. State (1998) 13 NWLR (pt. 583) 531. 
ADEDAMOLA OLADAPO